Shohakutei Tea House Guided tour held on 11/25/2018
  The tour was held on a clear and warm fall day.
We had eight people registered but six participated as guests.
A lady in Kimono prepared Matcha tea and another lady who is a qualified teacher of one of  Chado schools, demonstrated how to drink tea for each guest in turn.
We got out of the tea house after the tea ceremony to go through the Tea garden, and entered into a genuine tea room (KOMA) through a very small entrance called NIJIRI-GUCHI.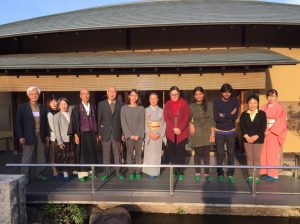 When the tour finished, one of the participants mentioned "Looking at traditional Japanese culture with MY own eyes, and also experiencing some part, I got feeling of peace of mind." 
Next guided tour will be held late January 2019. Please keep eyes on announcement.